Collections
Welcome to my online treasure chest of things I absolutely love. Simple. Sue Paterson Collections is an evolving colour story, created for the discerning individual who is seeking out that something unique for their home or that special gift.
You'll find furniture pieces upholstered in my original fabric designs coordinating with other beautiful home furnishings to create that feature accent or wow factor. You may also find rare antique treasures, fabulous jewellery or handcrafted artisan wares collected from my travels around the globe.
Most of the pieces for sale in my Collections, will be one-off as it is my intention to design and collect the rare and the original, and not to mass produce as there's already to much of that going on in the world right now.
Make sure you stop by frequently and regularly as Sue Paterson Collections is an ever-changing one-stop shop of unique and bespoke pieces to make your house a home.
Introducing Sue Paterson Collections "Wild Natives"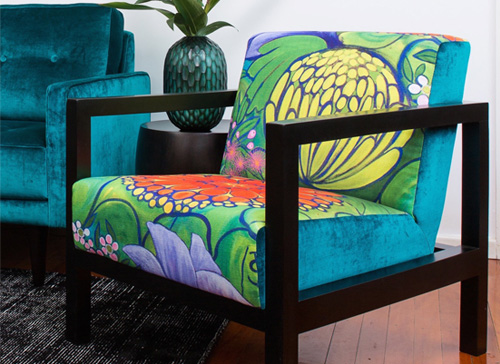 Sue Paterson Collections "Wild Natives" original fabric design on chairs, for limited release. Commercial grade linen feel fabric, accented with plush velvet. Australian made chairs.
Unique accent pieces for the home, fresh, bright, usable art, and you won't find them anywhere else.
"Congo" solid side table 450mm diameter & "Adour" hand blown glass vase. Please inquire here about pricing and ordering.