Colour Explosion – Paterson bursts on to scene in debut solo exhibition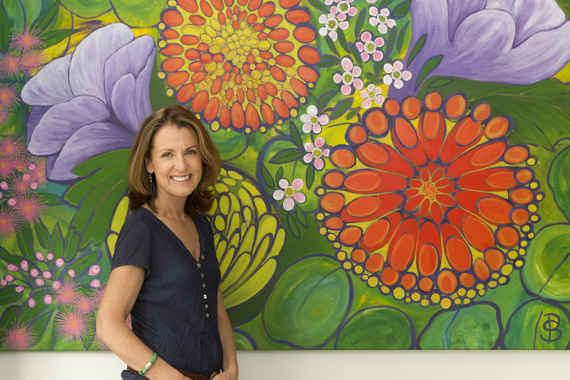 In the media, check out this article featured in Quest Community Newspapers – Cheryl Yong
CHAPEL Hill artist Sue Paterson's bold, bright paintings will star in her debut solo exhibition at the Percolator Gallery this month. Bursting into Life was a reflec­tive journey of loss, self-discovery, healing and ultimately happiness, Paterson said. Inspired by her late creative mother, the exhibition features 12 works, including large-scale acrylics, three-dimensional wall art and furniture from her line, Sue Pater­son Collections, Wild Natives. Paterson said her work would celebrate two special family mem­bers by incorporating her moth­er's favourite flowers and her grandma's best vase. "My mother has always been a very strong influence on me and I wanted to celebrate it by doing something big and beautiful," Pat­erson said.
She said she was in awe of na­ture's beauty and its many bril­liant hues, contrasts, patterns and textures. "I love nature, flowers and anything that's very bright and colourful – I always get blown away by colour," she said. "I'm always told that my paint­ings make people feel happy and as an artist, to be able to have that kind of emotional response from people is always one of happiness and joy."
Sue Paterson's de but solo exhibition Bursting into Life runs from May 26 to June 7 from 10am-6pm at the Percolator Gallery, 134 Latrobe Tee, Paddington.
Opening night is on May 30, from 4-8pm.
For more on the gallery visit percolatorgallery.com.au or visit suepaterson.com for more about the artist.